For the Heirloom tomato sauce --
saute garlic and diced shallot till opaque then add the roasted heirloom tomatoes and chicken stock. Cook for 5 minutes till slightly thick. Let cool then put in a blender with basil leaves and 2 zucchini blossoms. Bend till smooth and pass through a medium sieve.
For the Salmon
Score the salmon with a sharp knife. Salt both sides getting salt pepper into cracks. Let the fish rest for 15 minutes after salting. 
Sear the salmon skin side down using grape seed oil till skin is crispy. Turn the salmon and cook according to preference. The above salmon was still very pink inside.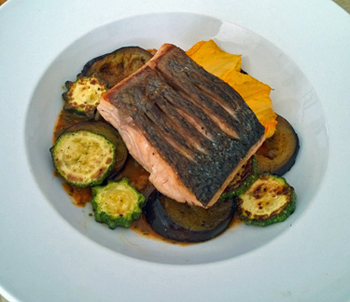 A Fresh Zucchini Blossom is added beneath the Salmon as a garnish and to be eaten raw.