The Brussel Sprouts: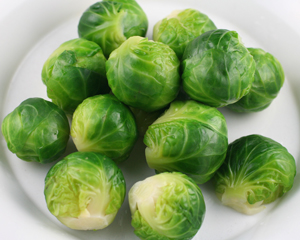 Blanch for 4-5 minutes in boiling salted water. Refresh in cold water to keep the color.
Cut the bacon slab into 1/4 slice then slice again into 1/4 pieces. Saute bacon in 1 T Olive oil till light browned
Reserve half the bacon for garnish... 
hen add the cut brussel sprouts flat side down. Cook till light browned, then add the garlic slivers and cook another 30 seconds. Add the stock and 1/4 white wine.
The sauce:
Add 1/2 the bacon, shallots, and saute in 1 T butter. Add the stock and mustard. Whisk in cream and reduce till desired consistency is reached. Add chives and thyme.
The salmon:
Score the salmon and dry the skin well. Season both sides with salt and pepper. Sear skin side down till skin is crispy. Flip over fish and cook till complete. Usually this means 75% of cooking time will be skin side down. 
Assembly:
Reheat the brussel sprouts with 1/2 bacon. Pour over sauce and garnish with additional bacon, and chives. Set the salmon on top as shown in the photo below.